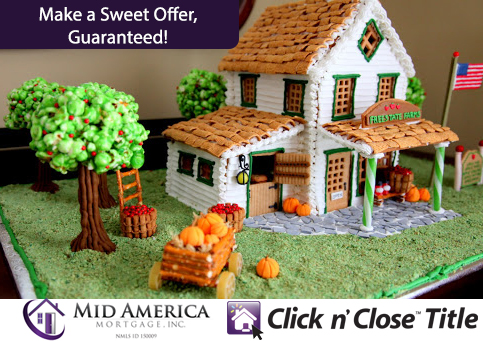 Close on Time with Click n' Close Title and Mid America Mortgage
We have partnered with Mid America Mortgage, Inc. to guarantee closing on-time within 21 business days on conventional loans. Buyers must be pre-approved with Mid America for access to this exclusive offer. In the past, Mid America Mortgage loan officers offered to pay the seller up to $3,000 or 1% of the loan amount they cannot close within 21 business days. If Click n' Close Title is used in addition to Mid America on loans in Indiana, Kansas, Michigan, Tennessee, most of Texas*, and Virginia, Mid America Mortgage will double the amount up to $6,000 or 2% of the loan amount.
Make a Sweet Offer, Guaranteed!
In an industry where every day is crucial and delays can cause a lot of pain, Click n' Close Title and Mid America Mortgage have streamlined the home selling buying to ensure everyone is satisfied and deadlines are met. Both companies pride themselves on a digital-first process, simplifying and securitizing the traditional mortgage process by bringing it into the 21st century.
*The Guarantee will be DOUBLED in the Following Texas Counties: